About VFA.........
Sustainable Natural Resource Management Projects
Sustainable Development Programs (HIV/AIDS, Malaria prevention and control, ICT and Enterprise Development.
Networking and Linkages for Community Action and Development
VFA Community Resource and Training Centre.
Donate/Participate in VFA Programmes across East Africa
Volunteer with VFA in East Africa
Will you support our volunteers work in places like this............
or
Do you want to Become VFA's Goodwill Ambassador?
or
Enter into Partnership with VFA..................
VFA's Social Development Programmes
VFA also has a strong basis in its Social Development Programs. The HIV/AIDS and Malaria Campaigns, the women's enterprise programmes through crafts, the child adoption projects and the ICT for Schools and community are all making a lasting impact into what volunteers can contribute to sustainable development in Africa. Meet Teresia Njeri, the SDM Programme Manager at VFA.
To find out more about the various VFA Projects, please visit our portal at Http://vfa.nilebasin.com
Ms Teresia has run VFA's Social Development Programme with much passion.
She has been able to establish programmes with women in Kajiado District in Kenia, through working with groups directly affected by the HIV/AIDS menace.
The women can now make crafts for export, thanks to a partnership between the groups, VFA and the Humanist Movement in Iceland.
Revenue derived from the sale has supported dozens of families.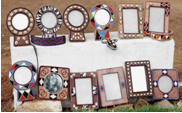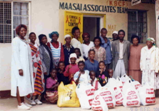 The SD Programme has also been involved in HIV/AIDS and malaria campaigns around Eburru in Nakuru and in Kibera slums in Nairobi.
The Programme also promotes various forms of enterprise development such as beekeeping and cultivation of efficient crops such as Vanilla and fast maturing banana's.
Teresia will be glad to explain more about her work at VFA, especially with the disadvantaged women and youth, and with those affected by HIV/AIDS, and how she is striving to market the crafts the women are making. Talk to Teresia today...............