About VFA.........
Sustainable Natural Resource Management Projects
Sustainable Development Programs (HIV/AIDS, Malaria prevention and control, ICT and Enterprise Development.
Networking and Linkages for Community Action and Development
VFA Community Resource and Training Centre.
Donate/Participate in VFA Programmes across East Africa
Volunteer with VFA in East Africa
Will you support our volunteers work in places like this............
or
Do you want to Become VFA's Goodwill Ambassador?
or
Enter into Partnership with VFA..................
Sustainable Natural Resource Management Projects.
Although VFA works mainly in the volunteer programmes, the SNRM Programme, which is supported by the Volunteer Programme provides a backbone of many community programmes under which VFA receives volunteers. The Programme, under the leadership of Kunga Ngece has grown drastically, and has attracted funding for some of the volunteer oriented projects.
To find out more about the various VFA Projects, please visit our portal at Http://vfa.nilebasin.com
To read VFA's Bee Keeping Newsletter, please enter here............
The Lembus ecotourism Project is funded by the Netherlands Committee for IUCN, and seeks to enhance capacity for local women and youth to benefit from forest resources through sustainable ecotourism. The project seeks to promote voluntarism among the community, and enhance cultural exchange with development tourists visiting Lembus Forest.
The Eburru Integrated Project encompasses development, cultural tourism and health. Hanna has been supporting work at Eburru, a community that is suffering due to lack of water due to deforestation. The only source o water at Eburru is from underground steam jets, most of which is contaminated with minerals. Water pans have been excavated, and tree nurseries established to ensure the rivers that dried come back to live.
Find out more on the VFA's SNRM Programs from Kunga Ngece. the Programme Manager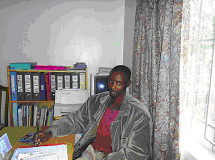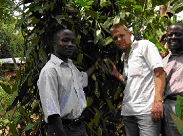 In Mpigi, Uganda, thanks to Mukasa, for the Friends of Mpigi Forests CBO's Community Bee keeping, environmental education and craft programme have effectively served the women around Mpanga, Lufuka and Kyansozi forest reserves. Degradation of these forests is a thing of the past, thanks to efforts of FOMAF, VFA's strategic partner, with the forestry Department and other donors as the Whitley Laing Foundation, Global Fund for Women and ECHO.
On his part Kunga has developed the Programme from scratch. Kunga is a Gender, NRM and Information specialist and has worked around Africa with major organizations, known widely for their role in natural resource conservation. He has also worked with VSO in Uganda, and participated in the development of community based volunteer programmes in Uganda and Tanzania.